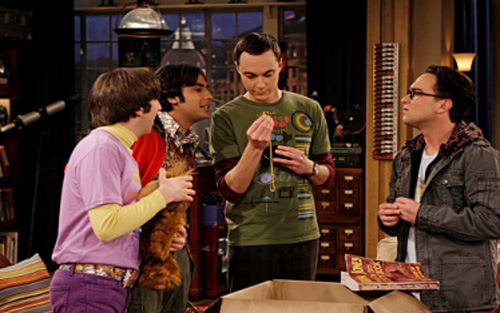 Whoa, Big Bang is just all over the storytellers' repertoire lately. Is storytelling becoming nerdy or what?...
In this episode Sheldon breaks up with string theory, and consequently becomes depressed. He consoles himself with a story about a ring that says "this too shall pass."
The original story of the ring comes from the Middle East; it is often recorded in Jewish folklore. In the Jewish version, King Solomon sends out people to find him a magic ring that can make the happiest man humble, and can console the saddest person on Earth. The messengers search high and low without finding such magic, until one of them comes across a beggar on the way home. The beggar asks for his own ring, promising to give a magic one in return. When the messenger hands him the ring, the beggar carves "This, too, shall pass" into the ring and hands it back. King Solomon takes one look at the ring, and in his wisdom understands that it is exactly what he was looking for.
Let's hope the beggar got rewarded.
Read more about the story
here
.